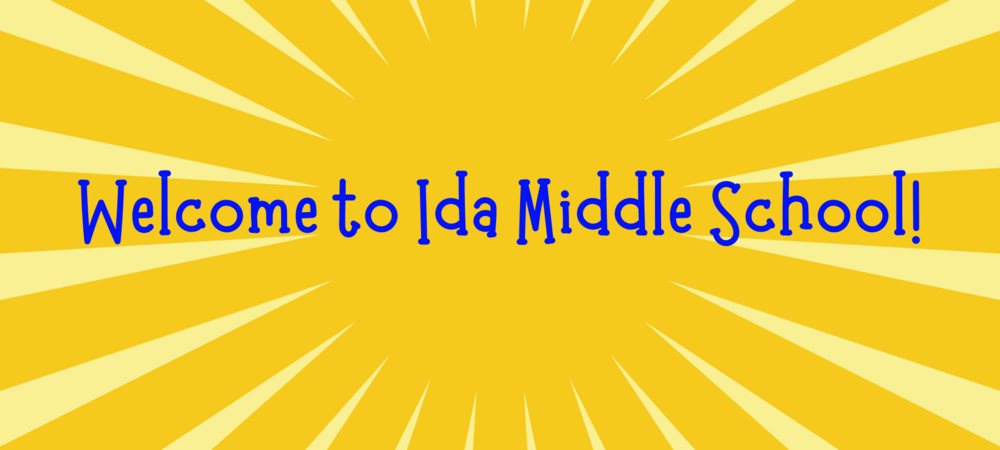 Ida Middle School
Parents/ Public Resources

Accelerated Reader Home Connect for Parents
Lunch Information

Dietary and Allergy Form
School Information

Middle School Handbook

Middle School Course Description

Sport Physical Form

Medication Form

Athletic Scholarship Application

Youth Suicide Prevention

Social Determinants of Health Resources

Promedica Mental Health Resource Guide for Monroe County
Allergies References

Food Allergy Resources

Snack Safely Resources
Student/Employee Resources

Tutor Bot - Mathematics Skills Practice

NWEA Log in (Teacher)

Ida Seismograph

Ida Weatherstation

Renaissance Place (Accel Reader)

AR Book Finder

Envision Math

Collections Reading

Moby Max

M-Step Practice - requires chrome, copy link and paste in chrome

Employee Access Center

Infinite Campus Staff Portal

Destiny Library Software

Ida MS PTSA
Mission Statement
The mission of the Ida Middle School staff is to create a safe, supportive, and conducive environment wherein all students are empowered to become life-long learners. The intellectual, physical, social, and emotional needs of the students will be met with a variety of instructional strategies based on individual needs.
About Us
Ida Public Schools has a current enrollment of approximately 1,470 students. The schools are located in the heart of Monroe County in Southeastern Michigan. The community serves a rural population comprising of family farms and the small village of Ida. Employment opportunities are bountiful as Ida residents typically work in Toledo, Monroe, Ann Arbor, and Detroit.
Strategic Planning
The Strategic Plan highlights our commitment to students in four areas:
To increase the percent of students meeting the college readiness levels at Ida Public Schools
To improve Technology Integration at Ida Public Schools
All students will experience career awareness activities and develop a comprehensive Educational Development Plan
Improve Communications
School Arrival and Dismissal Times
Ida Middle School's daily arrival and dismissal times are as follows:
Arrival
Warning Bell - 8:00 A.M.
Second Bell - 8:05 A.M. Marked Tardy if Entering Building
Dismissal
Dismissal Bell - 3:10 P.M.
Attendance Number
To report an absence, please call the office at 734-269-2220 or email Tracey Gagnet at gagnet@idaschools.org
Allison Bondie
Assistant Principal
Brittany Pawlak
Counselor
Sarah Ash
Curriculum Director